★ARIHHP homepage renewal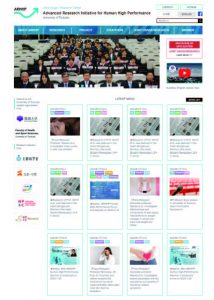 Advanced Research Initiative for Human High Performance (ARIHHP) homepage was renewed on 16 March, 2023. In this renewal, symple and easy to navigate toppage design was applied for assisting visitors to learn more about ARIHHP that set a new start as a Joint Usage / Research Center. The contents below were also updated.

・Greeting from Director Takahashi
・Sports Research Innovator
・ARIHHP Alumni
Among others

We also updats latest news legularly. Please check them out.

【About a disturbance of display】
Due to the renewal of the homepage, if your internet browser memorizes cache, page display may be disturbed. In the case, please clear the cache by following the browser specific instruction. Please bear in mind that a cache clear deletes previous information on your browser, so please do it under your own responsibility.